Celebrate St Patrick's Day on Saturday 14 March 2020 at the Thyon 4 Vallées!
Be met with friendliness coupled with a warm and festive atmosphere along with folk, rock and Celtic punk music.
For the second time, this will be the official Guinness Saint Patrick's festival in Switzerland.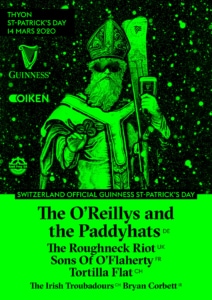 Programme
The programme for this 7th edition includes more than 7 hours of free live music with the participation of well-known international groups from the European and Irish folk, rock and punk scene:
Entertainment including a Bryan Corbett concert in the Alpage restaurant from 11a.m.
Concerts from 5.30p.m. on the old tennis courts in Les Collons village:

Bryan Corbett
The Irish Troubadours
Tortilla Flat and the Independant Pipers
Sons of O'flaherty
The Roughneck Riot
The O'Reillys and the Paddy Hats
Location
Les Collons 1800, behind the old tennis court.
Facilities
Free entry
Heated tent
Swiss and Irish food, Guinness, lager beers, whisky and gin
Free parking located near the festival
Bus: the Theytaz bus links Thyon from Sion
Thyon Irish Friends Association
After having celebrated Saint Patrick's Day together for several years, a group of 5 friends with a love for Ireland founded the Association Thyon Irish Friends (ATIF) in order to extend the festivities to the whole station.
Over 1000 people are now expected in March for this evening accompanied by Celtic music.
More information available on the ATIF website
Thyon 4 Vallées Ski Station
The Thyon region marks the Western end of one of the largest skiable areas in the Alps: The 4 Vallées include the Thyon, Veysonnaz, Nendaz, La Tzoumaz and Verbier stations.
Take the opportunity to enjoy a day skiing over more than 400 km of slopes before moving on to spend your evening at the Thyon St Patrick's Day festival.