As part of the construction of the Dixence-Resort thermal centre, La Foncière de la Dixence SA has mandated BEG SA Géologie & Environnement to monitor prospecting drilling intended to precisely define the existing thermal water reservoir in Combioula.
The area was already well known for its subsoil rich in sulphurous water, but in view of the construction of the hotel complex in the municipality of Hérémence, the drilling of an exploratory well was important to ascertain the potential for supplying thermal water to the future pools.
Confirming the existing hydrogeological hypotheses, this borehole, sunk to a depth of 998 metres, revealed the presence of a precious aquifer containing hot mineral water, which the Dixence-Resort thermal centre needed.
The works started in October 2016 with the installation of the site.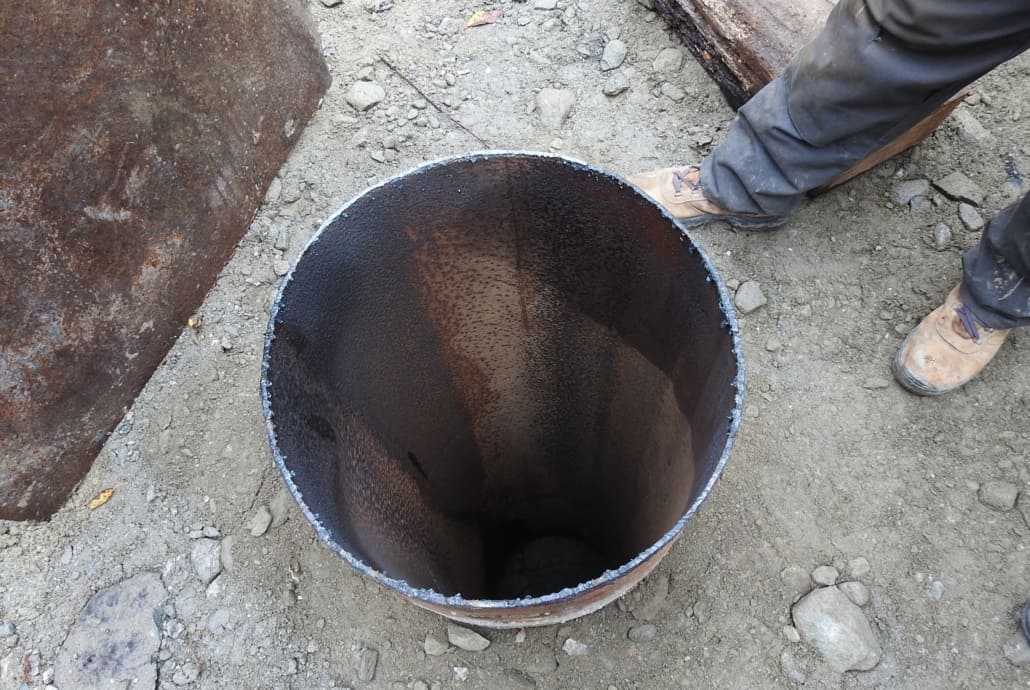 A pilot hole, or wellhead of about 40 cm in diameter was made.
Drilling then continued in stages until August 2017.
Steel casing and a reserve of tubes for mounting the drill string
A casing has been installed to a depth of 320 metres in order to protect the well, serve as a wall and also to isolate it.
Exploration of the well continued with the installation of a drill string, which was carried out at the 216 mm tricone.
The diameter of the rods is larger at the joints so that they are more resistant.
The presence of an artesian aquifer located between 390 and 550 metres deep has been confirmed. The water is rich in sulphates, chlorides, magnesium and sodium and the temperature is 29 °C. The spa of the emerging hotel centre in the heart of Val d'Hérens will be able to benefit from this precious natural resource.
The drilling mud was decanted and landfilled. The water was then discharged, clean, into the river La Borgne.
The cuttings were meticulously collected and analysed.
Limestone marbles of the reservoir area.
In the autumn of 2017, long-term pumping, with tests at different pumped flows, showed that the aquifer was recharging in a relatively short period of time. This bodes well for the supply of the Dixence Resort pools.
Pumping test in early November 2017: plateau at 1,700 l/min
Two productive aquifers are present and confirmed: one, already known from previous drillings, with a depth ranging from 80 to 260 metres, and the second, confirmed by the above-described work, located at a depth going beyond 390 to 550 metres.
Measurements were made on the surrounding sources and demonstrated that the drilling had no influence on their flows.
Nature will keep its equilibrium and this beautiful place in the Vallee de la Borgne in Valais will not lose any of its attractions, while allowing tourists and day trippers to enjoy a moment of well-being at the edge of the 4 Vallées ski slopes.