At times the Val d'Hérens has been known as the valley of the devil, our ancestors may have thought he was at work when they saw steam and hot water emerging from the ground at Combioule.
Effectively there is a thermal source here, down under the valley floor below the pyramids. This is one of the most significant hot water sources in Switzerland, with about 81 springs at temperatures of 25 to 29°C.
It is this water that is going to feed the thermal baths at Dixence Resort.
The geothermal gradient of the planet is such that there is an average temperature increase of 30 degrees per km depth. Water that infiltrates the underground faults is heated and charged with minerals. The characteristic smell of rotten eggs that one notices down on the valley floor near the source is actually hydrogen suphide.
Even if there has been local knowledge of the source since the 15th century, the recorded history starts with Isaac de Rivaz, a valaisan magistrate who had excavated a gallery at Combioule in the end of the 18th century, in his search for salt. He came across hot water, but at this stage ran out of money and the works came to a halt.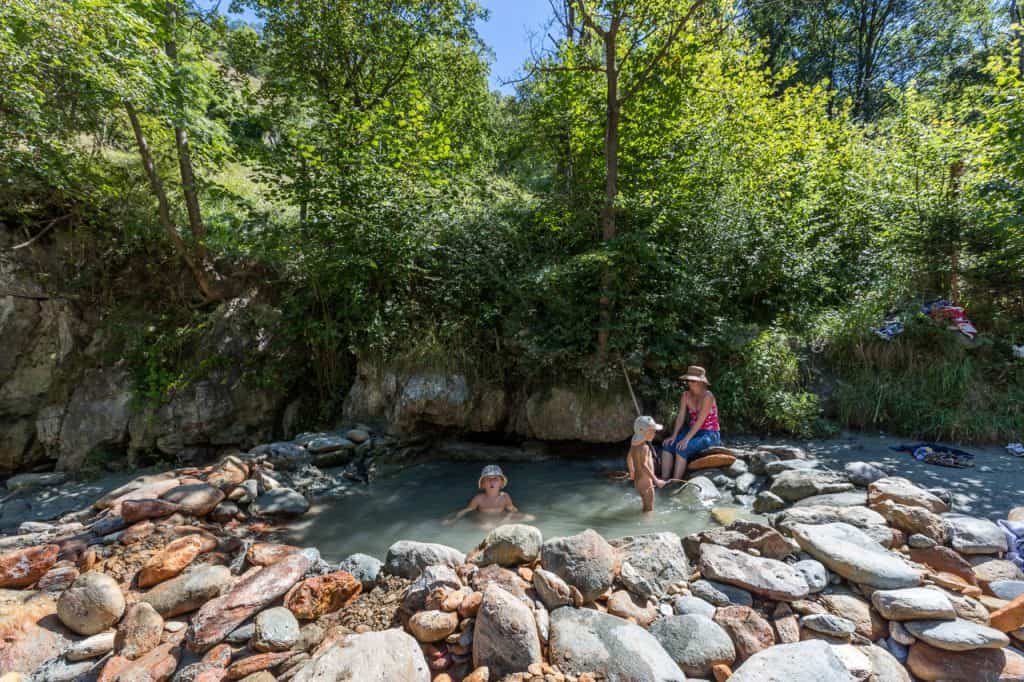 The top of the entrance door to the gallery can be seen on the photo above, just under the water level.
In 1983, a 350m deep borehole was executed. Water at 28°with a flow rate of 1 m3/min, proved the existence of an artesian aquifer.
Until this day, hot water has consistently emerged in the vicinity of the borehole, although not necessarily with a constant flowrate. In order to exploit this precious resource of sulphur charged water a new borehole has been executed for the Dixence Resort hotel.
Th curative properties of the spring water for skin disease and rhumatisme have always been recognised by the locals.
According to the geothermal research department at Neuchâtel, of all the known thermal waters in the Swiss alps, the waters of Combioule together with those of the wells of Pro San Gian at St-Moritz, are the most rich in sulphates, chlorides, magnesium et sodium.